Common Purebred Feline Disorders
Purebred cats must meet certain characteristics of the breed to prove their pedigree. Selective breeding for these traits has caused many breeds of cats to develop genetic health problems. Animal Wellness Center has experience working with purebred cats and knows which problems to look for based on breed.
Some breed characteristics can lead to health problems. All longhaired cats will require extra grooming from their owners to keep their fur from matting. Munchkin or dwarf cats can have mobility problems due to their size. Even if your cat is not 100% purebred, knowing their genetic history will be helpful in predicting possible health problems. If your cat is the cross between two purebred parents, they could be at greater risk for the inherited diseases of both breeds.
Cat Breeds with the Most Genetic Disorders:
Learn more about the health problems of the breeds from Animal Wellness Center.
Curly or wavy coat; narrow neck and large ears (Devon),
Heart problems, kneecap dislocation; baldness and umbilical hernia (Cornish); hereditary myopathy (Devon)
Rex cats are specifically bred to have curly fur. This selective breeding has led to specific health issues, including Devon Rex spasticity (also called hereditary myopathy). This condition makes muscles weak and is eventually fatal.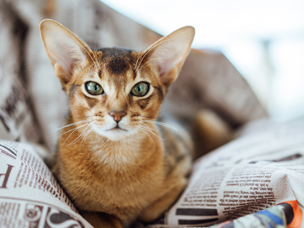 Bands of darker colored fur, smooth triangular head, large ears tilted forward
Vision, hearing, and dental problems
Abyssinian cats have many problems due to a history of in-breeding. They can experience vision, hearing, and dental problems.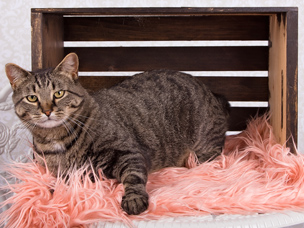 The Manx cat breed has a very distinct feature: a stub tail. Those with shorter tails may have spina bifida and spinal issues due to Manx Syndrome. They may also difficulty eliminating due to a larger than average colon.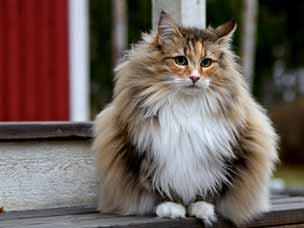 Tufted ears, fluffy tail, long coat
Heart problems, hip dysplasia, glycogen storage disease
Health problems sometimes seen in Norwegian forest cats include hypertrophic cardiomyopathy, hip dysplasia, and glycogen storage disease type IV. This rare disorder causes an enzyme deficiency where glycogen can't be processed properly, causing altered glycogen to build up in muscles and nerves. The disease is fatal—some kittens die before or just after birth, while others may not show signs of the disease until they are 4 or 5 months old.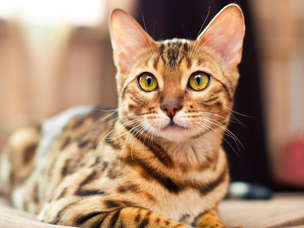 Spotted or marbled coat, large triangular head, thick neck and tail, large feet
Heart conditions, eye diseases, and joint problems
Bengal cats sometimes suffer from heart disease and degenerative eye conditions like progressive retinal atrophy. Mild to severe knee dislocation and hip dysplasia is also seen in this breed; severe cases may lead to lameness or require surgery.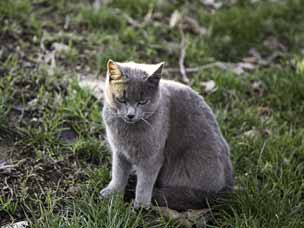 Compact but heavy body; rounded body, ears, eyes, chin, and feet; short glossy coat (usually sable)
Cranial deformities, glaucoma, hyperesthesia, kidney stones
Burmese cats may suffer from feline hyperesthesia syndrome, causing sensitivity to touch or pain. They also have a tendency to develop kidney stones in the urinary tract.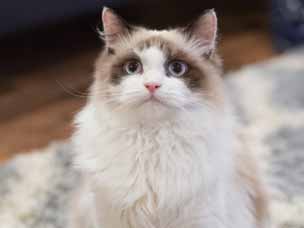 Blue eyes, semi-long coat, floppy body
Bladder stones, heart problems
Like many other types of cats, ragdolls can develop a heart condition called hypertrophic cardiomyopathy. They are also prone to bladder stones.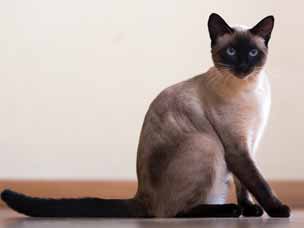 Short light coat with dark points, bright blue eyes, triangular head, tall ears
Heart, respiratory, dental, and eye problems; certain types of cancer
While Siamese cats do not have many physical health problems, they are prone to neurological issues including a type of obsessive compulsive disorder.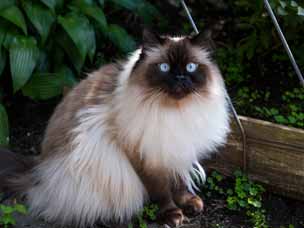 Flat face, long full coat
Kidney problems, respiratory problems
Himalayan cats' flat faces can cause breathing problems and make them sensitive to heat. Himalayans may also have polycystic kidney disease (PKD), which can lead to kidney failure.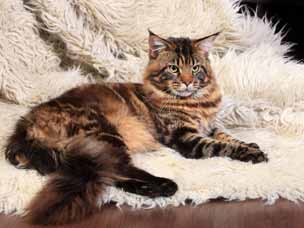 Heavy silky coat, large head, tall ears, long body and tail
Hypertrophic cardiomyopathy, hip and elbow dysplasia, spinal muscular atrophy
These cats face problems due to their size, as some can easily reach 15-20 pounds in weight. This can lead to problems with hip and elbow dysplasia. They also have heart problems.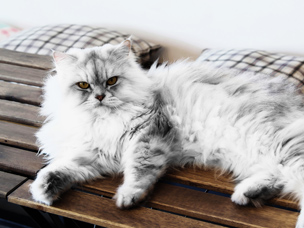 Flowing glossy, coat, flat face, dipped nose
Respiratory and digestive issues; kidney, vision, and heart problems; bladder stones and infections, liver shunts
Persians require regular brushing and grooming to keep their fur clean. Their short face can cause many respiratory and digestive problems. It can be hard for them to breathe with a very short nose. Eating is also difficult if their jaw does not stick out far enough or if their teeth are misaligned.