Healthcare Team
MEET THE VETERINARY CARE TEAM OF ANIMAL WELLNESS CENTER
Many of our staff members are from right here in Wisconsin. All of them are animal lovers with their own dogs and cats. They understand pets are part of the family, and can't wait to meet your furry family members! Click on the location below to read about each location's staff or schedule a Meet & Greet to tour one of our facilities.
KATIE, CERTIFIED VETERINARY TECHNICIAN
Hi I am Katie, a Certified Veterinary Technician here at Animal Wellness Center. With 15 years of veterinary medicine experience, caring for pets and interacting with their families is why I enjoy my career so much. I currently have 2 geriatric cats, Newby and Skip. I am originally from the Green Bay are and moved here in 2008 and am a Cheesehead at heart. In my free time I enjoy plays cards, socializing with friends, and reading.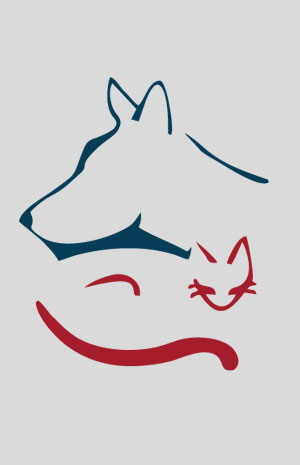 LORA, CUSTOMER SERVICE REPRESENTATIVE
Hi! My name is Lora! I am one of our team members at Animal Wellness Center. I started in 2006 and have loved my job ever since! Sometimes you will find me up front in reception or in a room assisting one of our wonderful doctors. I have been married for over 25 years and we have 3 great children and 1 beautiful grand daughter. We also have a great dane named Diesel, that you may see at one of our events, 2 cats named Shelby and Wilhelmina, along with many chickens. Some of my loves besides spending time with family and friends is being on our Harley and attending as many Chicago Blackhawks games as we can. I'm a huge fan! I look forward to seeing all of you and getting to know you more. You can find me usually between our Burlington and Waukesha locations. Have a great day!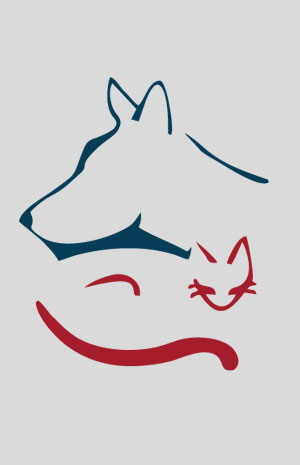 JASMINE TAUSCHER
Hi! My name is Jasmine, I have been with Animal Wellness Center since August 2020 after graduating Gateway Technical College in May 2020. I have an English Bulldog named Chloe, she enjoys joining us here at work any chance she can! During my free time I enjoy kayaking and having game nights.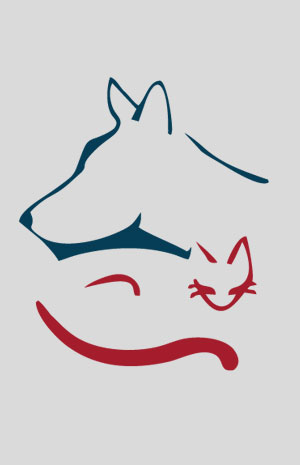 JENNIFER
I moved to Fond du Lac from Upper Michigan in 1994. I started working here in 1996 and have been here ever since. I went to a small private college in Upper Michigan and graduated in 1994 with an associated degree in Business Administration. I have always loved animals and enjoy working with people; so finding employment that has allowed me to combine my education, passion and interests into a career that has been very rewarding. In my spare time I love to be with my friends, family and dogs Mertyl and Esther. I also enjoy shooting pool, being outdoors in warm weather, watching football and rooting on my favorite team GO PACK GO!! Stop on by and to see us and we could chat about your pets, weather or even football!! Hope to see you soon!!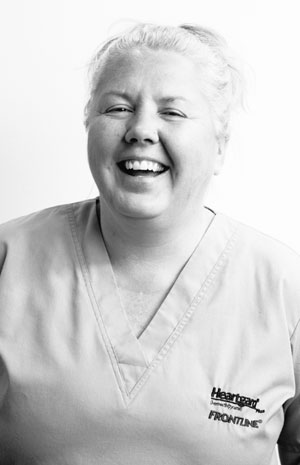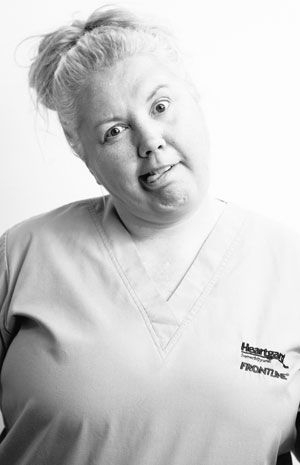 SARAH W.
Gluten tag! My name is Sarah, I work at the Fond du Lac location. I have been working with pets ever since I was old enough to work. Practices I have worked at include general medicine, emergency care, internal medicine/specialty, and water therapy. I love furry pets just as much as the scaley ones. My home(or my zoo as I like to call it) consists of three cats(Cocoa,Peanut & River), four Snakes( 2 reticulated pythons, a ball python and a California king) and last but not least a bearded dragon named Yoshi. I love that I continue to grow and learn with Animal Wellness Center in pursuing technician work and I hope to one day help be apart of bringing in a veterinarians who specialize in exotics for this area!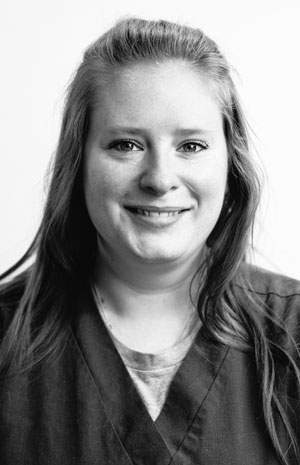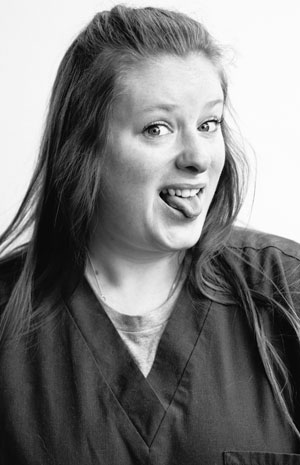 SARAH D.
Hello! My name is Sarah. I have been in the veterinary field for over 7 years. I graduated from Globe University in 2016 with my associates degree. I have been with Animal Wellness Center since 2018. I have a wonderful husband, Buck and we have 4 cats named Milo, Penelope, Hemi, and Linus. We also adopted a senior dog named Bo Bo. Outside of work, I love to travel and spend time with friends and family.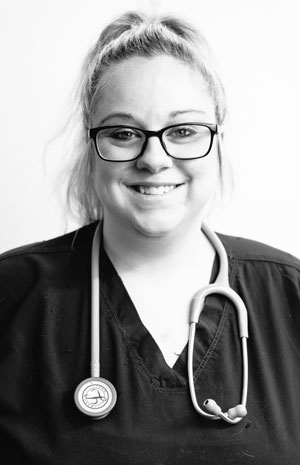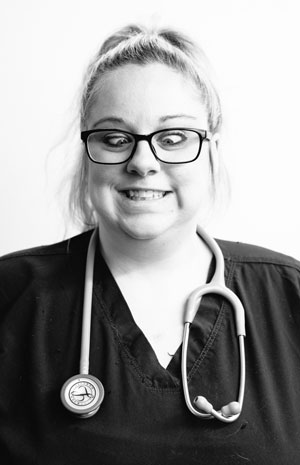 SAVANNAH
Hi! My Name is Savannah, and I work at the Fond Du Lac location! I have been working in the veterinary and animal field on and off for about 5 years, but have been with the Animal Wellness Team since 2021! I grew up in Mukwonago, graduated in 2015, and attended college at UW Milwaukee. My love for animals has been ongoing since I was a little girl, growing up with various different dogs, cats, fish, reptiles; I knew my heart always belonged in this field. I currently live in Iron Ridge with my fiancé and our many pets! We have 4 dogs; Bodhi our Rough Collie, Cooper our Golden Retriever, Lillian our Blue Heeler and Axle our St. Bernard. We also have a cat named Nugget. We also have three ferrets named Macy, Taco and Jane and also a fish tank full of various species! My dream is to own a farm someday with highland cows, which are my other favorite animals! In my free time, my fiancé and I enjoy late model racing at Slinger Speedway in the summer months and spending time with family and friends. I cannot wait to meet you and help care for your fur babies!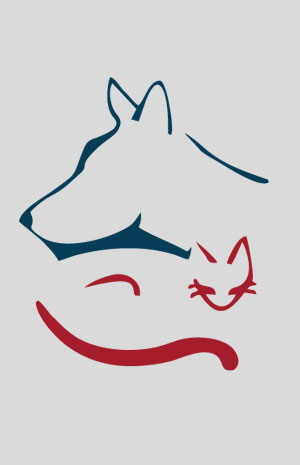 KARISA
Hello, my name is Karisa! I have been in the veterinary field since 2020 and at Animal Wellness Center since 2021. I love all animals and can't wait to meet new pets! I personally own two ball pythons (Kurage and Tarzan) and a spoiled cat named Demo. When I'm not working I enjoy baking, watching horror movies, or spending time with family and friends.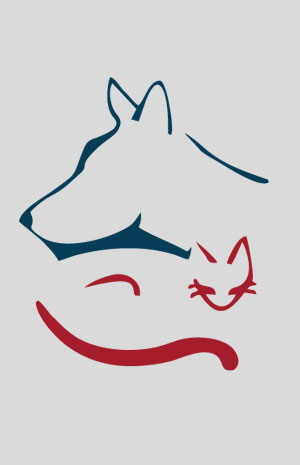 RENUKA
Hello! My name is Renuka and I have been working in the veterinary field since March of 2008. I truly love my job and working with all of our wonderful clients and their pets. I feel that all of our furry patients deserve the best care and treatment from us and their families because they are only on this earth for a little while. I look forward to meeting and caring for new clients in the future. When I am not working first and foremost, I am devoted to my amazing husband and our 3 precious dogs. I admit I am one of those people who treat their pets as their children because they are the only kids I will ever have. Needless to say, they are very spoiled. I enjoy gardening, painting and spending weekends exploring new places for food and entertainment with our family and friends.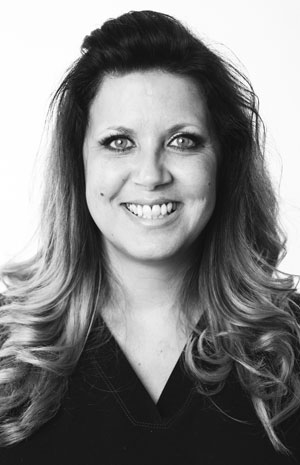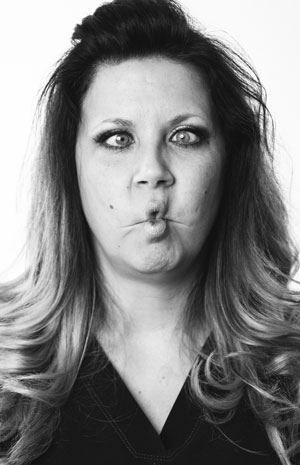 SARA B.
Hey everyone! My name is Sara! I've been with Animal Wellness Center for 3 years now, and in the veterinary field for 4 years. I grew up in Hartford, WI, and graduated high school in 2011. My love for animals brought me into this field. I grew up with dogs and cats my whole life. I currently have 2 dogs of my own- a border collie mix named Milo, and a beagle mix named Paizley. To me, they are my children, and that is how I treat every other pet as well! When I'm not working, I enjoy spending time with my husband, taking the dogs for hikes, kayaking, being on the lake in summer, or just snuggling up on the couch with my fur babies.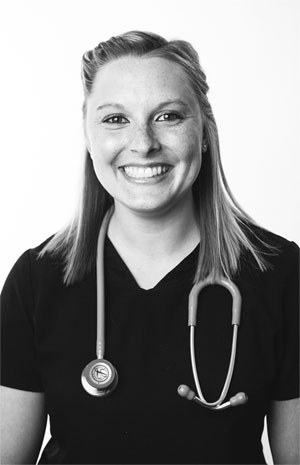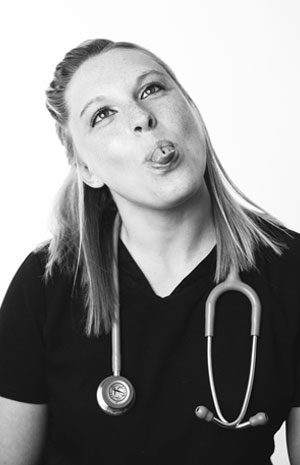 KATE
Konnichiwa! My name is Katelyn! I'm a Wisconsin girl with a huge heart for anything and everything pertaining to animals, Disney or nerdy things. I started my journey in the veterinary field in 2012 and have never had to "work" a day in my life since! Besides caring for the animals and their pet parents here at Animal Wellness Center of Oak Creek, I also extend my love to The Lake Shore Veterinary Specialty and ER hospital. My central interests in the veterinary field would be westernized and holistic remedies and therapy! Beyond my role as a veterinary assistant, I'm also a recent proud graduate of Criminal Law from UW- Parkside. People always look at me puzzled when I tell them what I went to school for and what my current career is. However, I have BIG dreams and ambitions to put these two passions into one giant ball of awesomeness. Animal Law, advocacy, and welfare are among the few platforms that I strive to one day take on and hopefully change the way the world views animals as a whole. When not wearing scrubs, I spend my time at my second home, The Racine Theater Guild, or reenacting the Elizabethan period in the Queen's Court at The Bristol Renaissance Faire. I'm also a new member of the Princess Cabaret! I take pride in continuing my love for cheerleading by coaching the St. Catherine's Varsity Squad. Of course, none of these things bring me the same joy as my fur babies. I have two rambunctious Pomeranians, Ruby and Vixey, as well as my Sassy cat Nonnie Jean the Bean Queen. I know how much my pets mean to me and would love to extend my love and affection to your pets as well!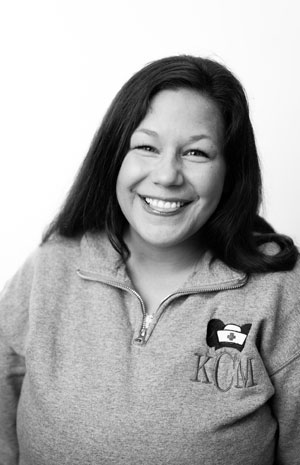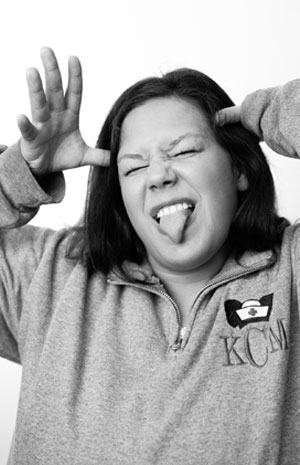 ANNA, CERTIFIED VETERINARY TECHNICIAN
Hi! My name is Anna! I've been a CVT here at Animal Wellness Center since 2019, but have been a tech for over 20 years. I'm passionate about animal health, education and dentistry. I have 3 Siberian huskies, 2 cats, 1 lizard and a teenage boy.. oh boy! In my free time I like to hike with my littlest husky Contessa, but you can also find me kayaking or at the beach.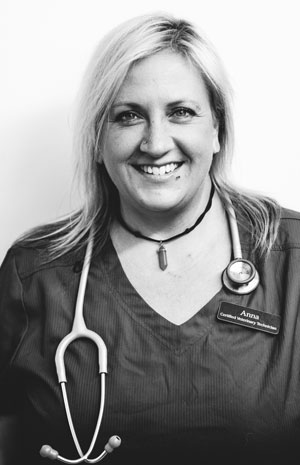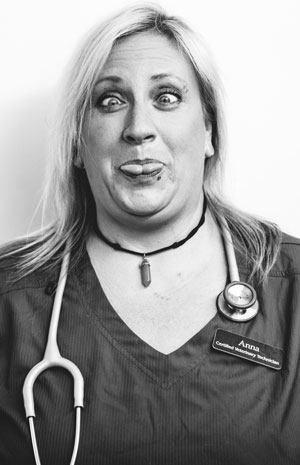 PAULA, CUSTOMER SERVICE REPRESENTATIVE
Hey hey! My name is Paula! I have had a love for animals of all kinds since I was a child. I have been working in the veterinary world as a receptionist for over 16 years and have been with Animal Wellness Center since 2018. I have 4 grown boys, 4 grandchildren, 2 senior cats, and a 90 gallon aquarium! In my free time, I workout, spend time with family, pet sit (including many of the clients from the clinic!). I believe to live, love and enjoy life!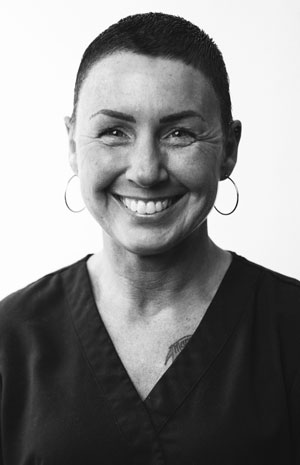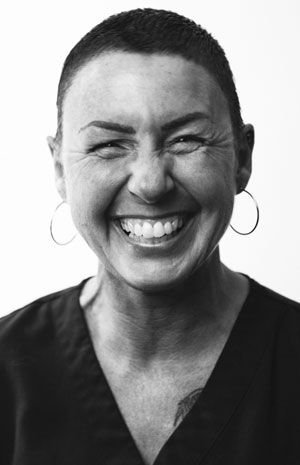 STEPHANIE, CUSTOMER SERVICE REPRESENTATIVE
Hi! My name is Stephanie. As a child I wanted nothing more than to be a veterinarian. I even made pretend pet patient medical charts, a schedule, and made-up medications for illnesses! As I got older, though, my focus pulled me in a different direction and I became a high school AP Spanish teacher and was in that position for 15 years. Serendipitously, I met and married Dr. Hillery in 2018 and that has brought me back full circle into my childhood dream of being involved in the veterinary field! Outside of work, Dr. Hillery and I enjoy spending time with our son, Hunter, our three dogs (Nox, Murphee, and Beau) and our two cats (Kevin and Pollee).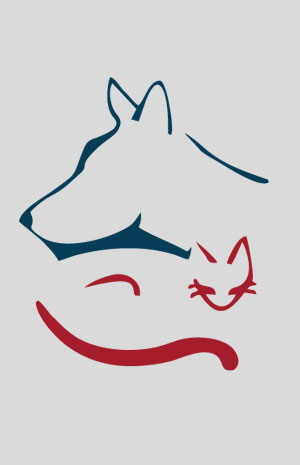 KIRSTEN
Hi there! I'm Kirsten and I started working in this amazing field in the Florida Keys. While working in the Keys I had the opportunity to work with some really fun exotics such as macaws, alligators, and even a lion! After taking a break to stay at home with my daughter, I'm happy to be back and to have joined the AWC family! When I'm not at work getting to know our wonderful clients and their four-legged family members, I love taking my younger dog on adventures. We're always looking for a new trail so if you know of any good ones let me know! Hope to see you soon!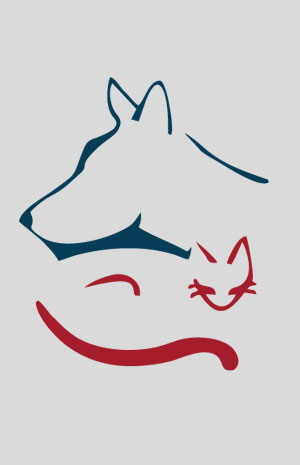 RHONDA, CUSTOMER SERVICE REPRESENTATIVE
Bio coming soon!
MERCEDES, CUSTOMER SERVICE REPRESENTATIVE
Bio coming soon!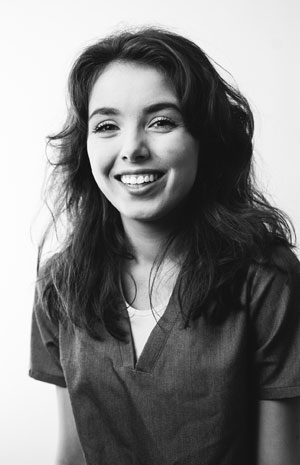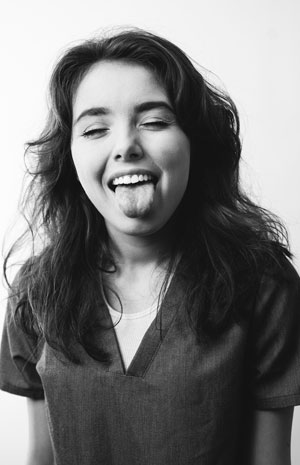 JULIE, APPROVED VETERINARY ASSISTANT
Many of our regular clients will recognize this lovely lady! Julie, or "Leave-it lady" as many of our pets (and their people) have come to know her throughout her years of training, is another of the originals, joining the clinic back in 2006. Julie joined the clinic with a broad range of animal experience between her own numerous pets, participating in 4-H, Barrel racing, as well as working at and managing a pet store! All of these experiences helped Julie to seamlessly transition into her role at the clinic. Since joining the clinic, Julie has obtained her Approved Veterinary Assistant certification. Drawing on her extensive animal experience, Julie serves as an excellent educator and mentor to both our younger staff, as well as our numerous clients!
When Julie is not at the clinic, you may also run into her continuing to expand upon her passion for animal care working at the Watertown Humane Society, or teaching a "Puppy Kindergarten" class at the clinic, after-hours! In her extremely rare spare time, Julie can be found on her hobby farm with her husband of almost 20 years (Patrick) and 3 kids (Alex, Gracie, and Garrett), where they have a variety of both small and large animals. After years participating in 4-H in her youth, Julie is now giving back by serving on the 4-H board for Jefferson County, as well as the Horse and Pony club. She is an avid gardener and enjoys fishing, hiking and all things horses. She is also a hobby breeder of Cockapoos and Cavapoos.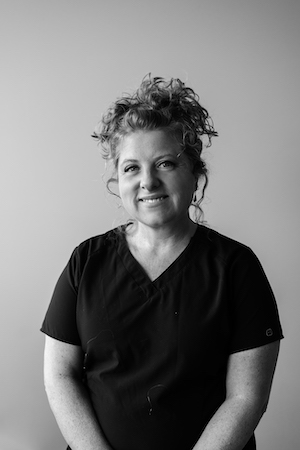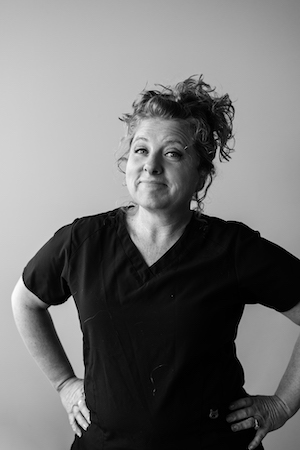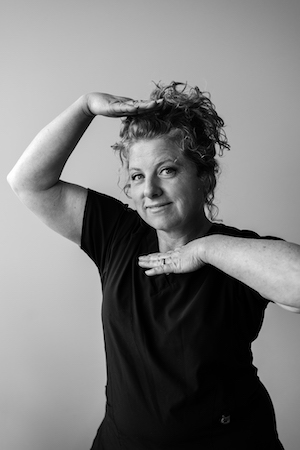 ANDREA (DREA), APPROVED VETERINARY ASSISTANT
This lovely lady is Gentle Healer's very own personal ray of sunshine! Andrea "Drea" Walsh is one of the original team members hired shortly after Dr. Scott first opened Gentle Healer. She joined the clinic with very limited veterinary experience. Having originally gone to school for cosmetology and subsequently obtaining her manager's license, the experience she brought to the clinic helped her rapidly grow as a team member, leading her to become the clinical support staff's Team Lead! Since she initially joined the staff in 2005, Andrea obtained her Approved Veterinary Assistant license (AVA) and now serves as the clinic's manager!
Outside of work, Andrea and her husband of 19 years, Travis, enjoy their country living with their two kids, two cats, two dogs, and one goat!! When she is not running around watching her kids Owin and Aliviah participate in the activities they love, you'll find her crocheting, sewing, hunting, or just hanging out at home.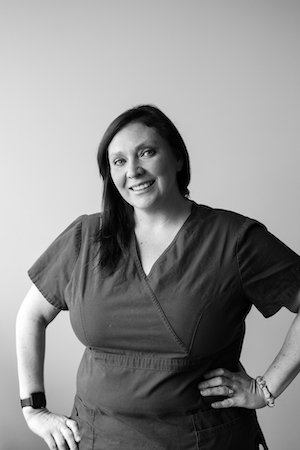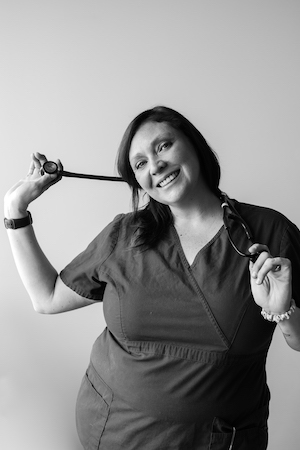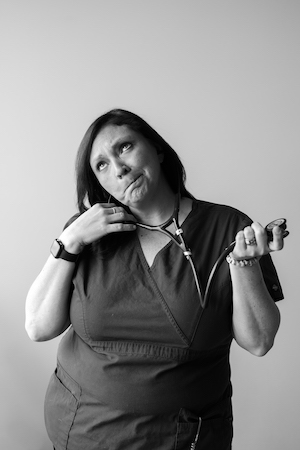 COURTNEY, CERTIFIED VETERINARY TECHNICIAN
Courtney has been a Gentle Healer family member long before joining us in her current role as CVT! Courtney and her four-legged family members first got to know Gentle Healer's team as clients. After that initial impression, she shadowed at the clinic and was eventually hired as a veterinary assistant in 2018. While working as a veterinary assistant, she went through the veterinary technician program at MATC and graduated in May 2020. She passed her national board exam, the VTNE, later that summer and officially became a certified veterinary technician.
Courtney recently married her high-school sweetheart, Ryan in June of 2022. They have been together since freshman year of high school. Together, they have two dogs, Oakley (Australian Shepherd) and Ruger (Golden retriever). They also have two cats, Lizzy and Ralphie.
In her free time, she enjoys spending time with her husband, animals, family, and friends. She also enjoys horseback riding, side-by-siding (UTV), and boating. Before pursuing her career as a Certified Veterinary Technician, Courtney had been a member of the Watertown Blue Revue dance team from 4th grade to senior year. It was a massive part of her life that she left behind to begin her new career in the vet world. She hopes that one day she can go back to it.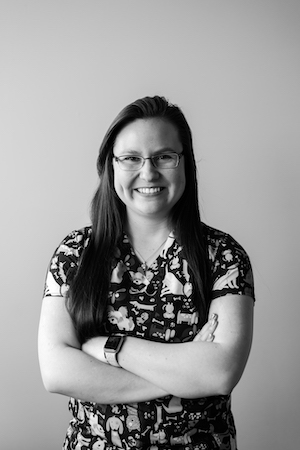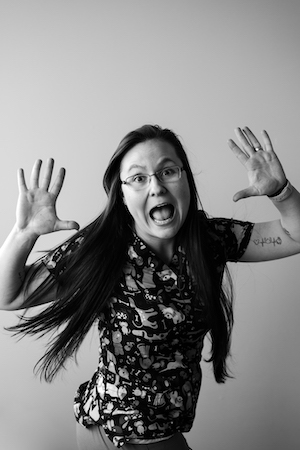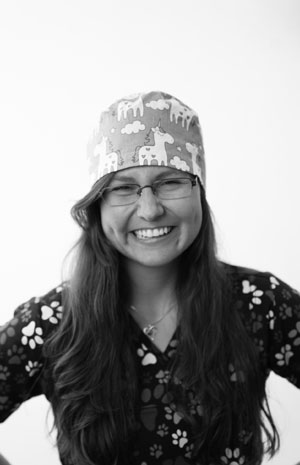 KATELYNN, VETERINARY ASSISTANT
Katelynn joined Gentle Healer almost four years ago. Armed with a love of animals and excellent people skills, she started in the role of Customer Service Representative. Having begun her journey with Gentle Healer with very limited veterinary/animal handling experience, Katelynn has grown immensely in her short time here. She now functions as a veterinary assistant and handles almost all of our specialty food/Prescription diet ordering.
Having grown in her skills-sets and progressing in her love for veterinary Medicine, Katelynn is currently enrolled in the Veterinary Technician program at Madison College. Upon completion and passing her national board exam, Katelynn will become a Certified Veterinary Technician!
Katelynn worked on a dairy farm in high school, and this is where she was first introduced to veterinary medicine. During her time there, she also found her love for Jersey cows, and, at one time, she owned 5 Jersey cows of her own!
When not working or in school, she enjoys spending time with friends and family or just hanging out with her dog, Tater, and two cats, Casper and Luna.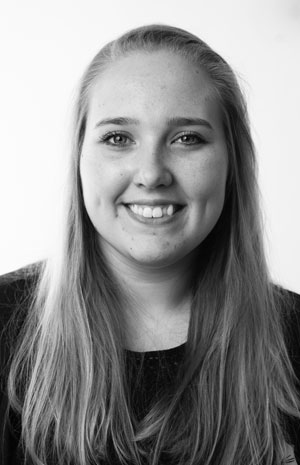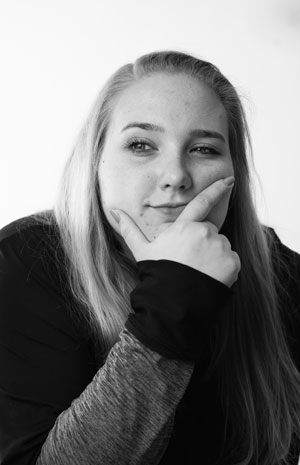 HEATHER, VETERINARY ASSISTANT
While relatively new to the world of small animal veterinary medicine, Heather has a unique background working with a variety of other animals. She came to us with experience in wildlife and zoology, having graduated from UW-Stevens Point with a degree in Wildlife Ecology and Captive Wildlife. Throughout her college years, she had the incredible opportunity to work at several zoo's! Unfortunately, these days the only wild animals she gets to work with are her co-workers!
A few years after her graduation, she made the transition into vet med, and we were thrilled to have her join our team in October of 2021. She started as a Customer Service Representative, and has since been adding to her skills and working as a veterinary assistant. Heather is currently enrolled in the veterinary technician program at Madison College, and will soon become a Certified Veterinary Technician!
Outside of work and school, Heather enjoys spending time with her pets; 2 cats, and a chocolate lab named Ruger. She also loves spending time outdoors, fishing, hunting, boating, and camping.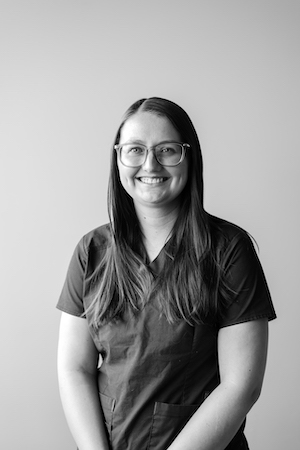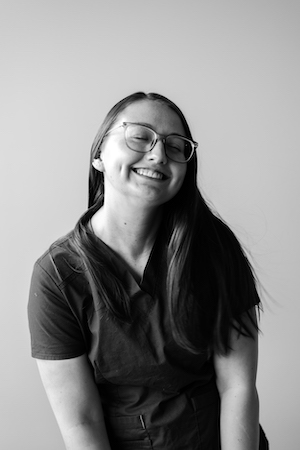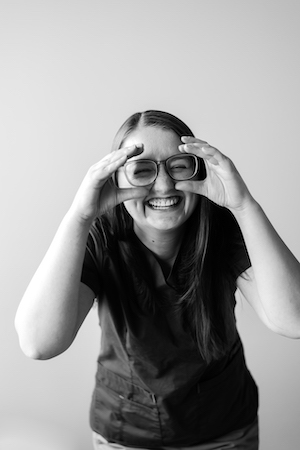 EMILY, CUSTOMER SERVICE REPRESENTATIVE
While it might sound cliché, Emily has always loved animals and has wanted to work with them ever since she was young. With the ultimate, long-term goal of becoming a veterinary assistant and possibly a Large Animal Technician, Emily has gained a wide variety of experience through working at a number of area veterinary clinics! With her love of animals, and a plethora of experience, Emily was an easy hire and a natural addition to the Gentle Healer team. She has been one of the smiling faces of our front desk since October of 2021.
In her spare time, Emily loves to be out in nature adventuring, reading books, playing video games, or painting and flexing her artistic muscles. She also enjoys spending time with her 4 cats, Lucy, Tootsie, Julius, and Grim Reaper. Long term, Emily would love to get more involved with large animals and take horseback riding lessons. Ultimately, Emily dreams of having a rescue farm for horses, and if time allows, traveling the world!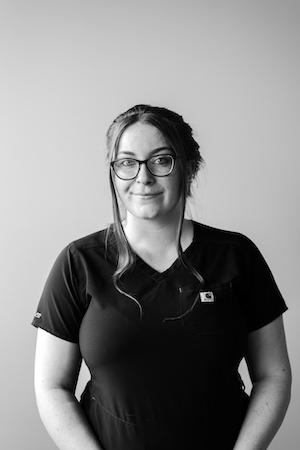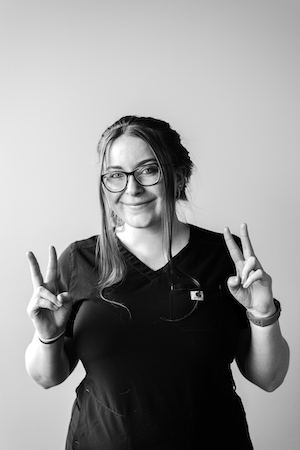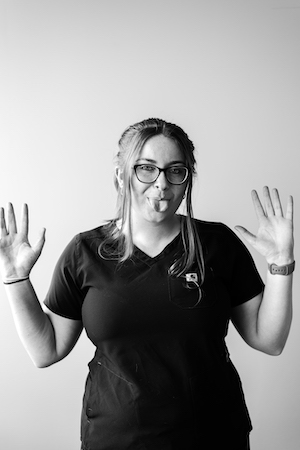 KEELIN, VETERINARY ASSISTANT
Having just joined us in October 2022, Keelin is one of the newest members of our team. Although she may be new to the Gentle Healer family, she is far from new to the world of animal care and husbandry.
Her love affair with all 4 legged critters began in animal shelters when she was 10 years old. From there Keelin moved on to raising and training service dogs and has personally assisted with the raising, training, and placement of over 50 service dogs over the past 15 years.
While completing her BA in Animal Behavior from Ripon College. Keelin completed 300 hours of volunteer work for AmeriCorp which aided her in obtaining a position working at the Menominee Park Zoo for two years post graduation. Her favorite animals to work with were Dash, a 20 year old African Spurred Tortoise, and Keyahna the teenage Blue and Gold Macaw. After spending the last several years working with several dog rescues and shelters, Keelin joined the Gentle Healer team. She is enjoying getting to know all the clients and patients, while still having a work/life balance to keep up with her busy family and activities.
Keelin is happily married to her husband of 6 years, Alex. They have two children, Ashildr (5yrs) and Atticus (1yr), along with 3 large dogs, Stitches and Georgie (both German Shepherd Dogs), and Ccota (a Burnese Mountain Dog). She also enjoys crafting, baking, playing percussion and traveling in her free time. Keelin looks forward to becoming a familiar face here at the clinic as she gets to know all of you and your beloved furry friends.